Awareness Week promotes the message to fund medical research for #HSPandPLS.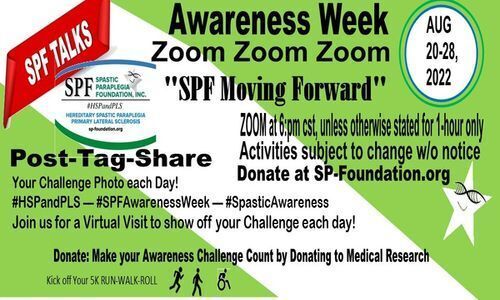 Save the dates!! #spftalks #hspandpls
Our daily activities are subject to change depending on the availability of invited Speakers! Save 6:pm cst each day we will Zoom with these activities listed unless a speaker requests a different topic and time.
Save Wednesday, Aug 24th at 1:pm cst with speaker Chris Pace! Dont miss this session on #selfcare #chronicillness
#hspandplsawareness #spf #spasticparaplegiafoundation #hereditaryspasticparaplegia #primarylateralsclerosis
Together we are #hspandpls #findacure #treatment #medicalresearch
What can you do for #HSPandPLS Awareness Week?
Get Going, Tell people to donate to help us find a cure for #HSPandPLS! During Awareness Week, each day events take place to raise awareness for #HSPandPLS.  Many people create fundraisers to raise money for medical research with the Spastic Paraplegia Foundation.  Join us each day at 6:00 PM, Central Time except Wednesday the 24th at 1:00 PM, for a global zoom visit for an hour to help drive the conversation on #HSPandPLS and create a lasting challenge reaching out to our family and friends of #HSPandPLS.
---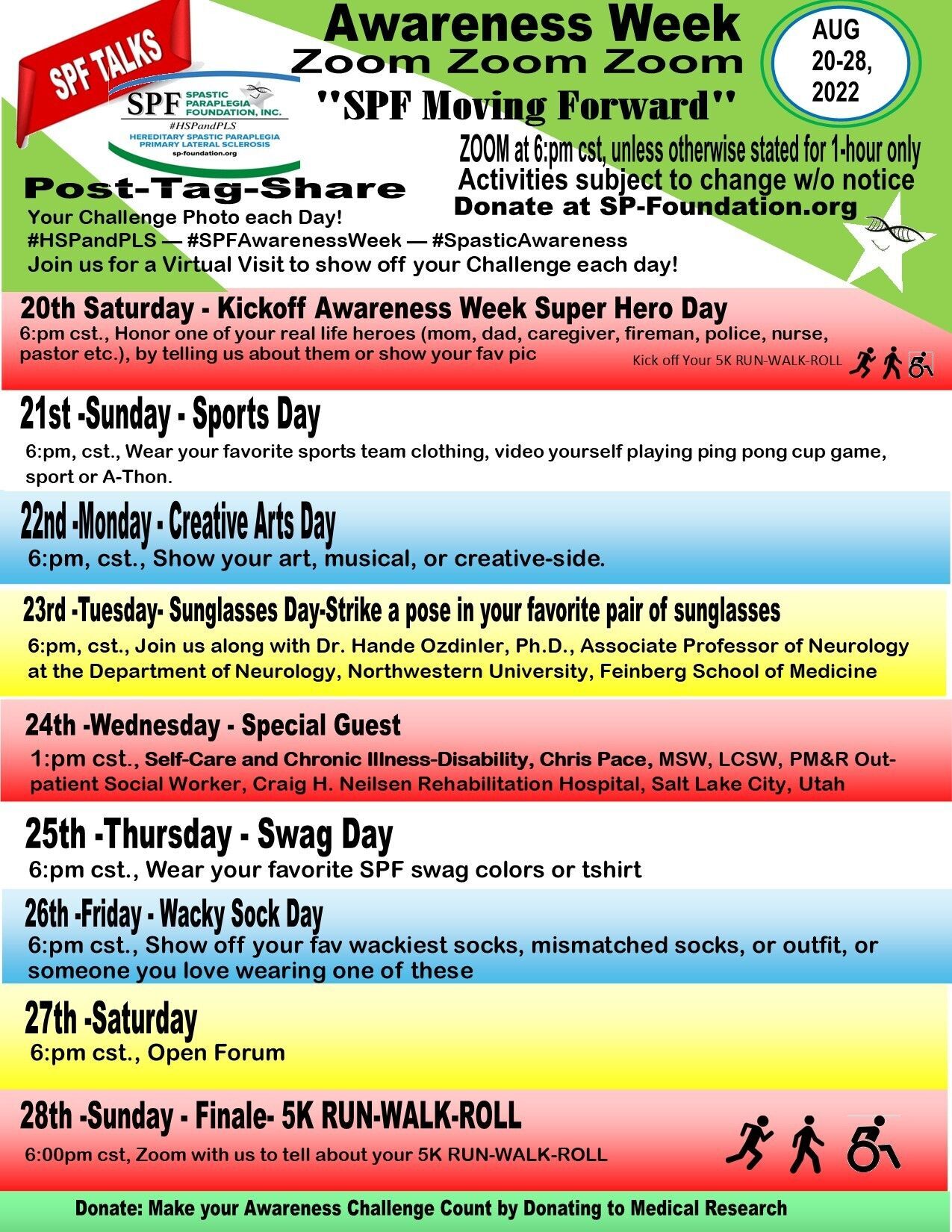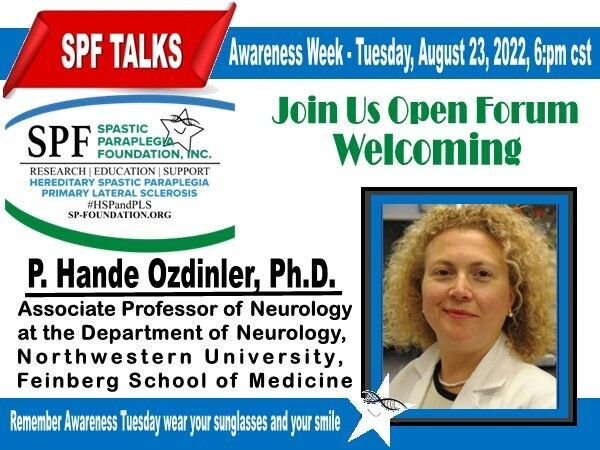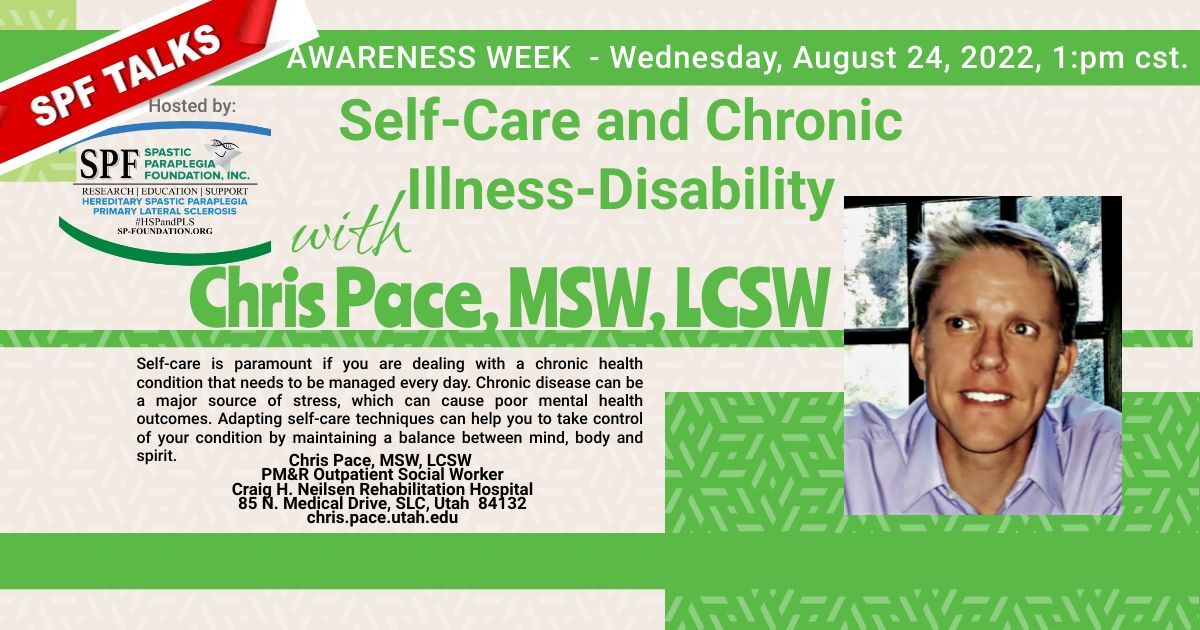 ---
Hi There,
You are invited to participate in the SPF AWARENESS WEEK from August 20-28, 2022. You must register in advance for the Zoom meeting by CLICKING HERE.  After registering, you will receive a confirmation email containing information about joining the meeting.
Should you have any questions, please let us know at SpasticWorldInfo@gmail.com
Thank you!
Norma Pruitt
(877) 773-4483
SPF Executive Director
What are the Daily Challenges for #HSPandPLS Awareness Week?
#HSPandPLS Awareness Week flyer (click on the image above)
--20th SATURDAY, Kickoff Awareness Week Super Hero Day – 6:pm, cst., Honor one of your real life heroes (mom, dad, caregiver, firemen, police, nurse, pastor, etc.), by telling us about them or show your fav pic
--21st SUNDAY, Sport's Day – 6:pm, cst., Wear your favorite sports team clothing, video yourself playing a sport, ping pong cup games, or any A-Thon. 
--22nd MONDAY, Creative Arts Day – 6:pm, cst., Show your art, musical, or creative-side.
--23rd TUESDAY, Sunglasses Day – 6:pm, cst., Strike a pose in your favorite pair of sunglasses
--24th WEDNESDAY, - 1:pm, cst.,  Self-care and Chronic Illness-Disability, Chris Pace, MSW, LCSW and PM&R Outpatient Social Worker, Craig H. Neilsen Rehabilitation Hospital, Salt Lake City, Utah
--25th THURSDAY, Swag Day - 6:pm, cst.,   Wear your favorite SPF swag colors or t-shirt
--26th FRIDAY, Wacky Sock Day - 6:pm, cst.,   Show off your fav wackiest socks, mismatched socks, or outfit, or someone you love wearing one of these
--27th SATURDAY
--28th SUNDAY – Finale – 5K RUN-WALK-ROLL – 6:pm cst, Zoom with us to tell about your 5K RUN-WALK-ROLL
---
Register for free. Click Here.
---
What Resources Are Available?
SPF has a range of resources to help you find answers. Click here to discover a wealth of information on #HSPandPLS. Direct people to this link:  https://sp-foundation.org/news-resources/

Stories – how people are getting involved!
People tell us stories of their challenges with #HSPandPLS Awareness, plus a roundup of online support! See the list of social media supporting spastic paraplegia on the SPF home page here. Direct people to this link:  https://sp-foundation.org/

How Can I Fundraise during #HSPandPLS Awareness Week?
The Spastic Paraplegia Foundation is a charity that relies on private and public donations and grant funding to help fund medical research for those with #HSPandPLS.  Donate to help fund medical research for #HSPandPLS by credit card, click here: Direct people to this link: https://sp-foundation.networkforgood.com/projects/22291-spastic-paraplegia-foundation
---
Donate: Make your Awareness Challenge Count by Donating to Medical Research
---
Create a fundraising activity, like one of these listed.
(1) 5K Run Walk Roll OR Virtual 5K
Create a team by recruiting family and friends to participate. Using creative calculating, convert your time with a physical therapist, stretching or exercising toward a Virtual 5K.  The average person can walk 3.1 miles in about an hour. Whatever you do for physical activity, count the time toward a Virtual 5K. Please make sure you check with your healthcare professional before doing anything new. Family and friends can help you raise funds by sponsoring your FUNraising 5K activities. For more information on a 5K Run Walk Roll, click here.
(2) Tea & Talk
We know thousands of you love Tea & Talking, so why not host one? You can sign up for a nominal donation, get friends, family, and colleagues to join you with a cup. Each person can pay a small amount to join, or whatever they feel comfortable donating.
(3) Wine Wednesday
Similar to Tea and Talk, Wine Wednesday is another great way to keep connected with others to discuss various wines. Together you can decide what your favorite wine is and donate the cost of a bottle of wine to SPF.
(4) Friday Night Cocktails
Used to having a drink with colleagues or friends on a Thursday or Friday night? You still can! Have a drink together and each person can donate the price of their favorite drink to SPF.
(5) Facebook Fundraiser
Create your own fundraising naming Spastic Paraplegia Foundation as the "Nonprofit" cause, click here to exit to Facebook. Direct people to link: https://www.facebook.com/fundraisers?create&source=help_center_how_to_create_fundraise
(6) Use AmazonSmile: You shop. Amazon gives.
Every time you want to place an order on Amazon.com, use Smile.Amazon.com.  It is the same website operated by Amazon with the same products, prices, and shopping features as Amazon.com. The difference is that when you shop on AmazonSmile, the AmazonSmile Foundation will donate 0.5% of the purchase price of eligible products to the Spastic Paraplegia Foundation, Inc. http://bit.ly/smileSPF
(7) Shop at the SPF Store, when you buy products a portion of the price is a donation to SPF. Click Here to learn more
---