Participate in Research
---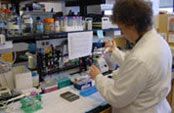 Your participation in research studies is vital in helping discover the causes and cures for our conditions. There are many on-going studies and many do not require travel. The National Institutes of Health usually reimburses for travel to Bethesda, Maryland.
Read about current clinical trails you may participate in:  Search Clinical Trials  
 Frequently Asked Questions about Clinical Trials
Contact us to hear about blood donations.