CANCELED 2020 SPF Annual Conference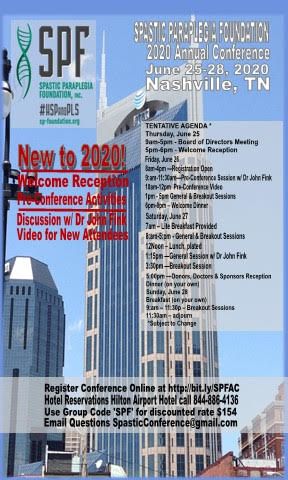 The Spastic Paraplegia Foundation invites you to attend the 2020 Annual Conference in Nashville to learn, share, network, and have fun! Mark your calendars to join us beginning with a Welcome Reception Thursday, June 25th and continuing with breakout sessions that end on Sunday, June 28th, 2020.
Spastic Paraplegia Foundation sponsors a conference to bring together the leading SPF researchers, clinicians, and families living with #HSPandPLS. SPF has hosted the Annual SPF Conference since 2003. We look forward to reuniting as a community at this year's conference in order to lend each other support and strength, and to learn about the latest advances in research and care.
The conference is filled with a variety of workshops, keynote sessions with leading researchers, a family-friendly research poster session, and more. There are many opportunities to connect and interact with other SPF families and to receive firsthand updates from the researchers.
For more information foto:
https://sp-foundation.org/get-involved/annual-conference.html