Fourth Annual 5K - A FUNdraiser Opportunity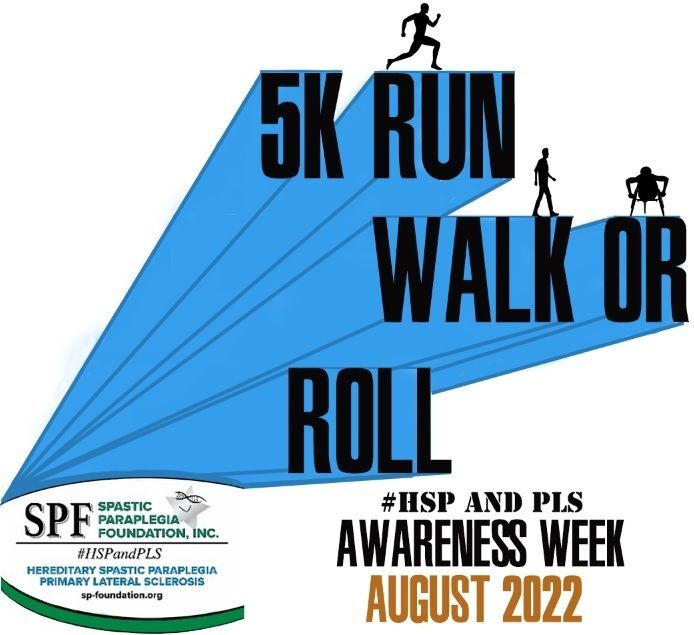 Join #HSPandPLS Awareness Week August 20-28, 2022
Run, Walk or Roll with the Fourth Annual 5K. The 5K has grown each year. Last year, almost $40,000 was raised. With your help, we are planning to raise $50,000 this year. Let's do it!
Compete on your own, recruit family and friends to participate, or plan an in-person event for others in your area. Can't Run, Walk, or Roll? How about calculating the time you spend stretching, exercising, or going to physical therapy? Please make sure you check with your healthcare professional before doing anything you are not used to.
You can participate any time now through the end of Oct, but we challenge you to complete your fundraising by Aug 28th so we can celebrate as a group. Bibs will be mailed as soon as you register. T-shirts will be mailed in the first part of September 
Please visit this link to see more details and set up your personal fundraising page. You will need a photo to post, a personal message, and a goal. Not sure how much you can raise? Start with a goal of $500. You might be surprised. You can always increase your goal. Be creative and have fun. There were some participants from last year that used mobility devices to participate. At least one swam her way to raising funds for medical research.
If you would like to host a 5K event, please email us HERE
You will be emailed a How to Plan a 5K guide. It will provide a step-by-step process to get ready for your event. Please do not get overwhelmed. If this is your first time planning an event like this, start small. Invite family and friends this year. Invite others next year.
Go to Awareness Week for more information on HSP & PLS Awareness Week: August 20-28, 2022.