SPF Talks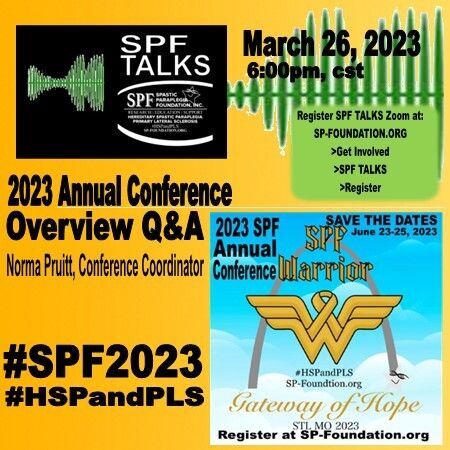 On Sunday, March 26, 2023 at 6:pm,cst hear updates, an overview discussion and Q&A about the upcoming 21st Spastic Paraplegia Foundation Annual Conference being held in St Louis, MO on June 23-25, 2023.  
Please join us to ask questions answered, or if you have questions and can not attend the Zoom let us know at SpasticConference@gmail.com. 
---
Register for the SPF Zoom Meeting
You are invited to a Zoom meeting. Sunday, March 26, 2023, 6:00 PM Central Time
Register in advance for the SPF TALKS ZOOM meeting.
After registering, you will receive a confirmation email containing information about joining the SPF TALKS Zoom.
---
Reminder
There's still an Advanced Discounted Registration Fee available until May 31st. See details and register for the Annual Conference.
Sincerely,
Norma Pruitt
SPF Executive Director
SPF Conference Coordinator
---
SPF Talks on YouTube Channel
View all of the past SPF Talks on the SPF YouTube Channel.
---