Current Studies Seeking Participants
---
Primary Lateral Sclerosis
Multi-site PLS Natural History Study (PNHS)
Hiroshi Mitsumoto, MD, DSc, Principal Investigator (PI) Wesley J. Howe Professor of Neurology (at CUIMC)
Grace Jang, BA, Study Coordinator Colombia University Irving Medical Center
The PNHS study flyer is shown below
Click button below that to view the study slide presentation
Also click the button below that labeled Site Contact Information for specific site contacts.
Sites that have begun enrollment are highlighted in green (not all sites are ready for participant enrollment)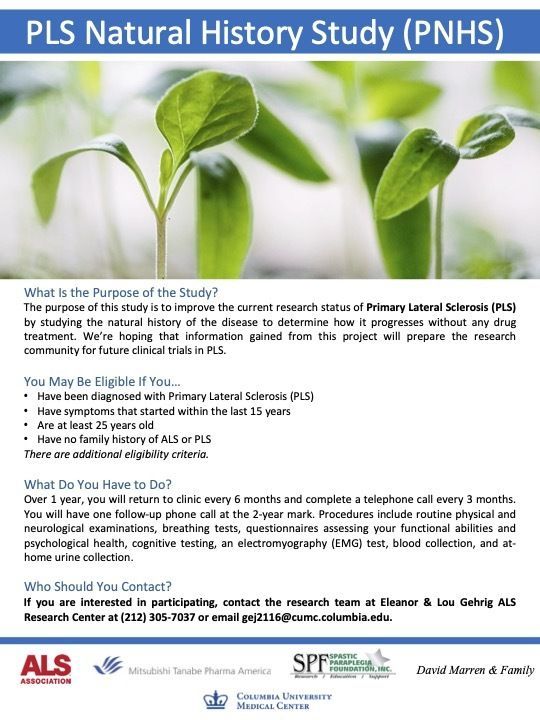 The site specific list of contacts for each site can be found by clicking the button below.
---
PLS Brain MRI/PET study
Massachusetts General Hospital is seeking individuals to participate in a research study under the direction of Sabrina Paganoni, MD, PhD
Dear Member of the Spastic Paraplegia Foundation,
We would like to let you know of a research study that is occurring at Massachusetts General Hospital (MGH) in Boston, MA.
The purpose of the study is to learn more about inflammation in the brains of people with Primary Lateral Sclerosis (PLS) and Hereditary Spastic Paraplegia (HSP) using combined Magnetic Resonance Imaging (MRI) and Positron Emission Tomography (PET). This study will examine whether particular cells called microglia, are hyperactive in the nervous system of people with PLS and HSP. This information could help improve the diagnosis and development of treatments in the future. 
Study participation involves at least one in person visit at MGH. During the visit, participants will undergo a 90-minute MRI-PET scan. Participants will also undergo a breathing test, muscle test and questionnaires. Individuals may elect to participate for up to four years in optional follow-up scans. 
Participants must be diagnosed with either PLS or HSP, be between the ages of 18 and 80 and medically safe to undergo an MRI scan. Unfortunately, this prevents anyone with a Medtronic intrathecal baclofen pump or anything else metallic in their body from participating. They also need to be able to safely lie flat for at least 90 minutes. Additionally, participants cannot be taking any immunosuppressive medications or have a diaphragm pacing system and cannot have a diagnosis of Parkinson's disease, Alzheimer's disease, unstable psychiatric disease or renal failure.
All participants will be reimbursed for parking and receive compensation of $150 upon completion of each MRI-PET scan
For more information, please contact the study coordinator, Austin Lewis at 617-724-7928 or by email 
---
The Clinical Research in ALS and Related Disorders for Therapeutic Development (CReATe) Consortium will enroll patients with sporadic and familial forms of amyotrophic lateral sclerosis, frontotemporal dementia (FTD), primary lateral sclerosis (PLS), hereditary spastic paraplegia (HSP), and progressive muscular atrophy (PMA). The goals of the CReATe consortium are to advance therapeutic development for this group of neurodegenerative disorders through study of the relationship between clinical phenotype and underlying genotype, and also through the discovery and development of biomarkers.

ClinicalTrials.gov is a database of privately and publicly funded clinical studies conducted around the world. Explore 330,850 research studies in all 50 states and in 209 countries.
ClinicalTrials.gov is a resource provided by the U.S. National Library of Medicine.

The National Institutes of Health (NIH) Clinical Center Search the Studies site is a registry of publicly supported clinical studies conducted mostly in Bethesda, MD.

Answer some questions and how far you are willing to travel. It's EASY!