Awareness Week promotes the message to fund medical research for #HSPandPLS.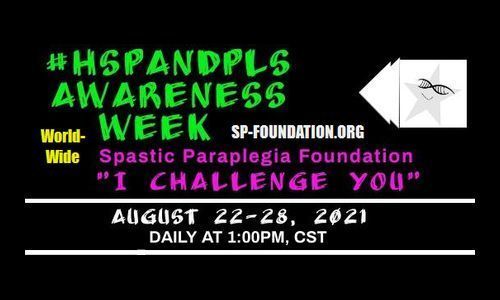 What can you do for #HSPandPLS Awareness Week?
Get Going, Tell people "I Challenge You" to donate to help us find a cure for #HSPandPLS! During Awareness Week, each day events take place to raise awareness for #HSPandPLS.  Many people create fundraisers to raise money for medical research with the Spastic Paraplegia Foundation.  Join us each day at 1:00 PM, Central Time, for a global zoom visit for an hour to help drive the conversation on #HSPandPLS and create a lasting challenge reaching out to our family and friends of #HSPandPLS.
---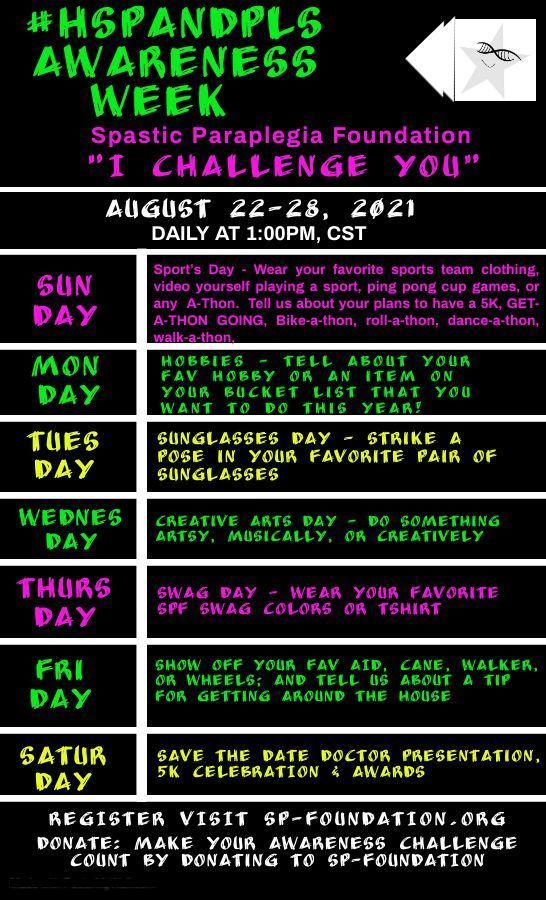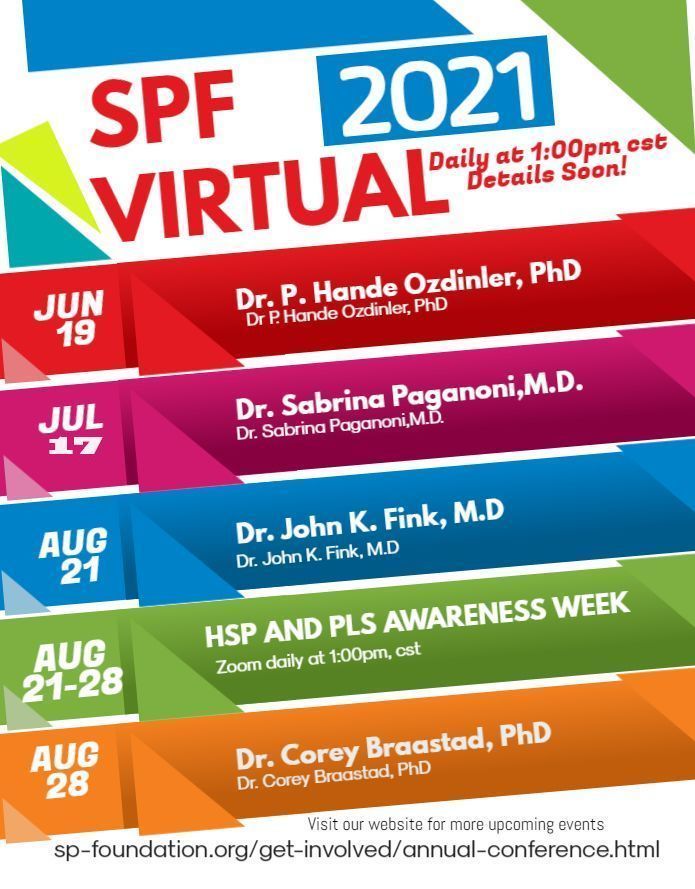 ---
What are the Daily Challenges for #HSPandPLS Awareness Week?
Download #HSPandPLS Awareness Week flyer (click on the image above)
--SUNDAY, Sport's Day - Wear your favorite sports team clothing, video yourself playing a sport, ping pong cup games, or any  A-Thon.  Tell us about your plans to have a 5K, GET- A-THON GOING, Bike-a-thon, roll-a-thon, dance-a-thon, walk-a-thon
--MONDAY, Hobbies - tell about your fav Hobby or an item on your bucket list that you want to do this year!
--TUESDAY, Sunglasses Day - Strike a pose in your favorite pair of sunglasses
--WEDNESDAY, Creative Arts Day - Do something artsy, musically, or creatively
--THURSDAY, Swag Day - Wear your favorite SPF swag color or t-shirt
--FRIDAY, Aid Day - Show off your favorite AID, CANE, WALKER, or WHEELS; and tell us about a tip for getting around the house
--SATURDAY - Dr Corey Braastad's presentation & 5K CELEBRATION 
---
Register for free. CLICK HERE.
---
What Resources Are Available?
SPF has a range of resources to help you find answers. Click here to discover a wealth of information on #HSPandPLS. Direct people to this link:  https://sp-foundation.org/news-resources/

Stories – how people are getting involved!
People tell us stories of their challenges with #HSPandPLS Awareness, plus a roundup of online support! See the list of social media supporting spastic paraplegia on the SPF home page here. Direct people to this link:  https://sp-foundation.org/

How Can I Fundraise during #HSPandPLS Awareness Week?
The Spastic Paraplegia Foundation is a charity that relies on private and public donations and grant funding to help fund medical research for those with #HSPandPLS.  Donate to help fund medical research for #HSPandPLS by credit card, click here: Direct people to this link: https://sp-foundation.networkforgood.com/projects/22291-spastic-paraplegia-foundation
---
Donate: Make your Awareness Challenge Count by Donating to Medical Research
---
Create a fundraising activity, like one of these listed.
(1) Virtual 5K Run Walk or Roll
Create a team by recruiting family and friends to participate. Using creative calculating, convert your time with a physical therapist, stretching or exercising toward a Virtual 5K.  The average person can walk 3.1 miles in about an hour. Whatever you do for physical activity, count the time toward a Virtual 5K. Please make sure you check with your healthcare professional before doing anything new. Family and friends can help you raise funds by sponsoring your FUNraising 5K activities. For more information on Virtual 5K, click here.
(2) Virtual Tea & Talk
We know thousands of you love Tea & Talking, so why not host one online? You can sign up for a nominal donation, get friends, family, and colleagues to join you with a virtual cup. Each person can pay a small amount to join, or whatever they feel comfortable donating.
(3) Virtual Wine Wednesday
Similar to Tea and Talk, Wine Wednesday is another great way to keep connected with others to discuss various wines. Together you can decide what your favorite wine is and donate the cost of a bottle of wine to SPF.
(4) Virtual Friday Night Cocktails
Used to having a drink with colleagues or friends on a Thursday or Friday night? You still can! Have a drink together online and each person can donate the price of their favorite drink to SPF.
(5) Facebook Fundraiser
Create your own fundraising naming Spastic Paraplegia Foundation as the "Nonprofit" cause, click here to exit to Facebook. Direct people to link: https://www.facebook.com/fundraisers?create&source=help_center_how_to_create_fundraise
(6) Use AmazonSmile: You shop. Amazon gives.
Every time you want to place an order on Amazon.com, use Smile.Amazon.com.  It is the same website operated by Amazon with the same products, prices, and shopping features as Amazon.com. The difference is that when you shop on AmazonSmile, the AmazonSmile Foundation will donate 0.5% of the purchase price of eligible products to the Spastic Paraplegia Foundation, Inc. http://bit.ly/smileSPF
---