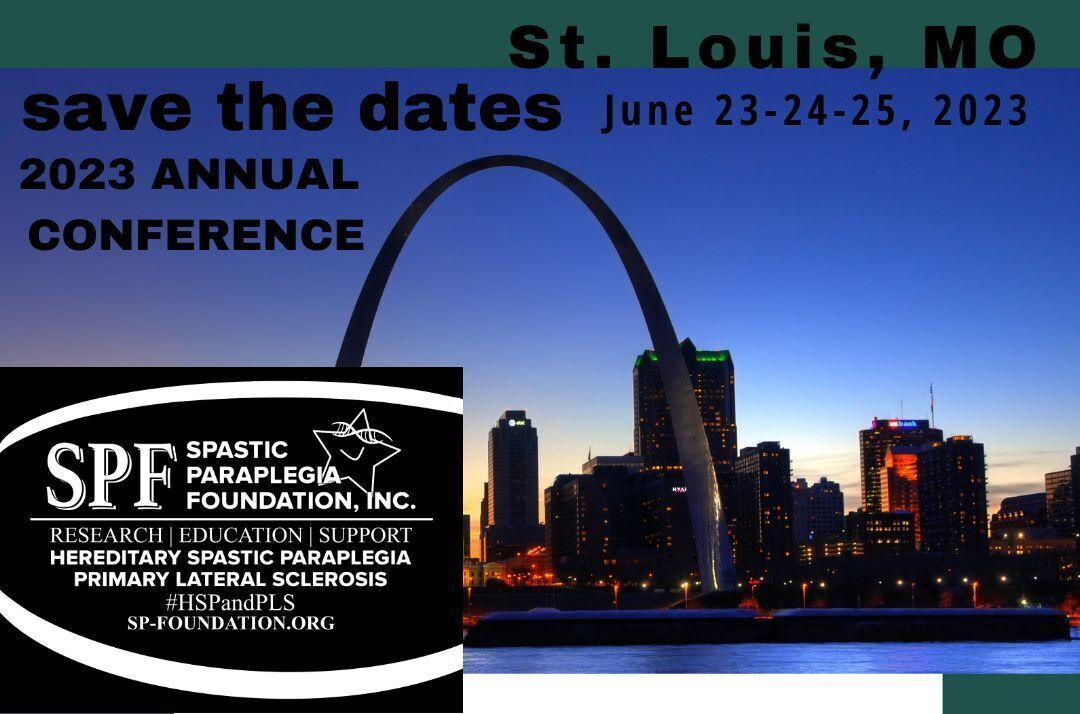 2023 SP-Foundation Annual Conference Registration is Open
NO REFUNDS AFTER MAY 31st, 2023
---
JOIN US IN ST. LOUIS, MISSOURI - June 23-25, 2023
The Spastic Paraplegia Foundation invites you to the Annual Conference to learn, share, network, spark collaboration, and have fun!  Mark your calendars to join us beginning at 8:am Friday, June 23rd ending at Noon Sunday, June 25th, 2023.

Below are instructions to register for the conference, weblink to the hotel to book a room and a number to call for accessible transportation.  The 2023 agenda is a similar footprint as the 2022 conference but is subject to change based on preferences from our speakers and other factors. However, the dates will not change. Please check back on this page as details are finalized, where we will provide a final agenda.
PLEASE READ DETAILS BELOW PRIOR TO MAKING RESERVATIONS.
Any questions, please email us at SpasticConference@gmail.com or call 877-773-4483
---
(1) CONFERENCE REGISTRATION FEES
Conference Fees are charged to cover the costs of the conference, meals, breaks, room rental, audio-video equipment, videographers, and other expenses to conduct a national conference.  The fees charged per registration do not actually cover all the expenses; and therefore, SPF must sponsor the balance from donations received from fundraising.  If you, your family, your guests are attending the conference each person must register and pay the appropriate rate. 
The Spastic Paraplegia Foundation tries to sponsor a conference to bring together the leading doctors, scientists, researchers, clinicians, and families living with #HSPandPLS. SPF has hosted the Annual SPF Conference since 2003. We look forward to reuniting as a community at this year's conference to offer each other support and strength, and to learn about the latest advances in research and care.
The two-day event is filled with a variety of workshops, keynote sessions with leading researchers, and more—plus fun events like our meet & greet, family fun, as well as teen and adult social activities. There are also many opportunities to connect and interact with other SPF families and to receive firsthand updates from doctors.
2023 marks new beginnings at the conference with a new VIRTUAL OPTION for those that can not attend in-person.

$150 - VIRTUAL REGISTRATION ONLY - Payment must be received by June 16, 2023
A non-shareable link will be emailed a few days prior to the Annual Conference. Please provide complete, valid email address on the registration form.
Payment must be received by May 31, 2023
$250 - 1st Adult Registration February 26 to May 31st 
$200 - 2nd+ Adult Conference Fee Early Discount
$100 - Child Registration February 26 to May 31st
Onsite Registration
$300 - 1st Adult Registration June 1st to Onsite 
$280 - 2nd+ Adult Registration June 1st to Onsite  
$100 - Child Registration June 1st to Onsite  
Please notice we try to make accommodations for people with food allergies and other allergies to help keep space safe for attendees.  Please make note of any allergies on the registration form and make sure you remind the hotel staff when you are being served.
TWO WAYS TO REGISTER/PAY
(1) REGISTER online for the 2023 SPF Annual Conference in St Louis, Missouri.
After you REGISTER, click here to  PAY  the appropriate registration fees by credit card.
                                                         OR  
(2) Print the Registration Form (click image below), Complete Form, Make Check Payable: SP-Foundation, then Mail Payment & Form To: SPF, 6952 Clayborne Drive, O'Fallon, MO 63368-6202
---
2023 Annual Conference Agenda  (CLICK HERE)
---
(2) HOTEL RESERVATIONS
The 2023 Annual Conference will be held in the:
Marriott St. Louis Airport Hotel
10700 Pear Tree Lane | St. Louis, MO 63134
Phone: (314) 423-9700
Website: https://www.marriott.com/en-us/hotels/stlap-marriott-st-louis-airport/overview/

HOTEL RATE:
Mention "SPF/SPASTIC PARAPLEGIA" to be included in the room block for discounted room rate per night of $122 +applicable fees and taxes.
Check-In 3:pm/Check-Out Noon, Central Time Zone
Click here to use hotel link to book your                                     
HOTEL RESERVATIONS or call (314) 423-9700
Guest Room Booking Website: https://www.marriott.com/event-reservations/reservation-link.mi?id=1670623196758&key=GRP&app=resvlink  
ROOM ACCOMMODATIONS:
Please note all ADA Rooms have been reserved for our attendees but may be sold-out prior to your reservation. The hotel has available: Concierge King & Concierge Double Rooms have a Walk In Shower. Standard King & Standard Double Rooms have a Shower / Tub Combo.
HOTEL HIGHLIGHTS:
-- 15-miles from downtown.
--SPF Guests at the conference hotel receives free self-parking and Wi-Fi-internet, and pet friendly.
-- located onsite: restaurant, bar, coffee shop, indoor/outdoor pool, fitness center.
-- Hotel Shuttle: Hotel shuttles run every 20 minutes starting at the top of each hour around the clock. No need to call, just proceed to Hotel Pickup.
Terminal 1 – Lower Level Exit 18
Terminal 2 – Lower Level Exit 15
Shuttles only go to/from the airport.  All other needs would be via taxi / uber.
AIRPORT HIGHLIGHTS:
-- Hotel is located less than a mile (0.7-mile) from St Louis Lambert International Airport (STL), https://www.flystl.com/, Airport Telephone: (314) 890-1333, airport shuttle complimentary.  
--Transportation Services - https://www.flystl.com/parking-and-transport/transportation
THINGS TO DO IN STL:
(1) https://www.marriott.com/en-us/hotels/stlap-marriott-st-louis-airport/experiences/
(2) https://www.explorestlouis.com
---
Click the image below to print a registration form