North Texas SPF Connection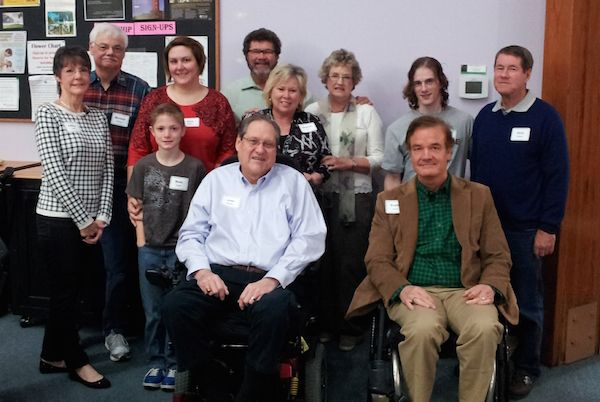 On  Nov 14, 2015, John Staehle, North Texas SPF Ambassador, hosted the Fall North Texas SPF Connection on Saturday, November 14th in the Gathering Room of the Advent Lutheran Church in Arlington, TX. Our group for this connection numbered twelve including three first time attendees. Instead of meeting at a restaurant for lunch, each attendee brought a snack to share as part of this trial format suggested at our last Connection in May. After introductions, John updated the group on the number of SPF contacts in the North Texas region, a total of 84, of which 62 have either a diagnosis of HSP or PLS or are a spouse/caregiver/family member of someone diagnosed with HSP or PLS. Twenty one of the 62 have PLS and 15 live in or very near the Dallas - Fort Worth area.
As Editor of SPF's Synapse newsletter, John asked those in attendance to consider writing something for a future issue about an experience, good or bad, they or one of their children have had because of their condition (HSP or PLS). Personal stories are well liked bu the leadership. They can send their articles to him anytime via email at jstaehel@swbell.net but if they want them to be in the Winter issue, he needs them by December 5, 2015.
Subjects discussed included the 2016 SPF Annual Conference to be held in Chicago, June 24-26, 2016. Details on the hotel and when they'll start taking reservations for the event are forthcoming - we were urged to check the website, www.p-foundation .rog, regularly for updated Annual Conference information. Also discussed were post-implantation issues with baclofen pumps; various medications we take and their side effects; questions raised by caregivers present at the meeting; personal experiences and where to find good physical therapists who understand our diseases and can develop exercise routines for our specific condition. Many questions were asked of the group. We were not shy providing answers.
Those present liked the format and would like to continue using it at the same location for the next Connection tentatively scheduled for May 2016. One comment was that it was so quiet compared to restaurant noise. We could actually hear each other talk. John will check availability of the room and reserve it for a Saturday afternoon next May.