2nd Annual SPF Trivia Night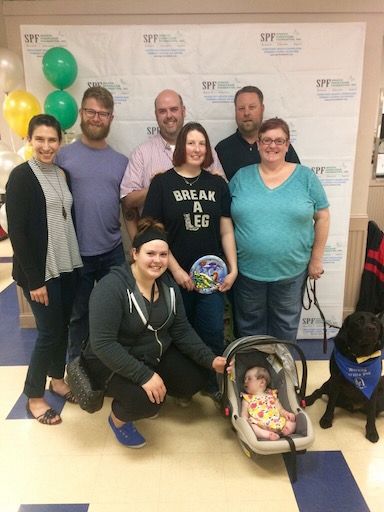 Missouri held it's 2nd Annual SPF Trivia Night on Saturday, October 8th at Maryland Heights Community Center (St. Louis area). Everyone there enjoyed the trivia competition and bid on the many Silent Auction items donated to SPF.
The evening began with a brief PSA video about SPF and then on to the ten rounds of trivia, with one dedicated to bringing awareness to the audience.
Tim Croghan demonstrated the Potato Pants (pictured) that were made by Mary Schultz, as he told everyone about the history and importance of the Potato Pants. People were offered a chance to wear the pants and feel what it's like to have HSP/PLS.
The winning table was comprised of Hugh O'Brian Scholarship winners (HOBY), and they were gracious enough to donate the evenings winnings to SPF(pictured). The Trivia Night yielded $2,300 for SPF.