International Meeting of HSP/PLS Groups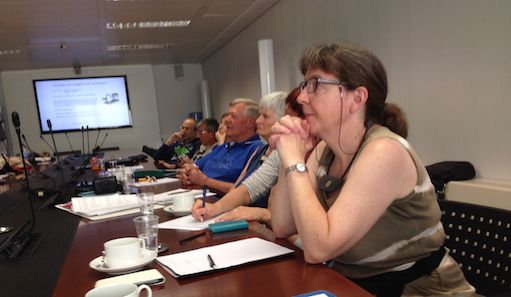 Record of the meeting
Record of Meeting of Global SP Group Leaders,
Madrid, 1-2 June 2015
Meeting Purpose:
To come together as the leaders of Spastic Paraplegia groups to leverage our separate efforts in the best interests of people with SP conditions everywhere.
Desired Outcomes:
to build relationships
to identify and deliberate on the most important issues of mutual interest
to begin developing ways to work together, and
to establish the basis for ongoing collaboration.
It is only SP support and advocacy groups whose primary mission is serving the interests of people with SP conditions.
Attendance:
Jean Benard (France), Dorthe Lykke, Charlotte Olesen (Denmark), Ian Bennett (UK), Fina Mateo, Marcos Guadalupe, Paco Rodriguez (Spain), Tommaso Amelio, Pasquale Masala, Marina Zapparoli (Italy), Peter van Aken, Hermien Remmelink (Netherlands), Cornelia Ott, Martin Ott (Switzerland), Frank McKeown (Australia), Frank Davis (USA).
Meeting Facilitator Rob Camp. Guest Speaker Dr. Rebecca Schüle.
Apologies: Ingerid Ringheim (Norway), Peter Barrefors (Sweden).
Support groups represented from France, Denmark, the UK, Spain, Italy, the Netherlands, Switzerland, Australia and the USA.
Monday, 1 June 2015
Meeting Convenor, Frank McKeown, made some introductory remarks that included:
as support groups, we are facing a different future from either our current or past situations
this is causing us to reflect on our vision, our strategies, our priorities and how we allocate resources
we can have a voice, and we both need and are expected to, with clinicians and researchers, with industry and regulators
the logistics of staging definitive clinical trials are now broadly apparent, with the inescapable conclusion that our efforts need to be collaborative, combined and multinational to create the potential for there to be an approved treatment someday
it was time that we all got in the same room and shared information, thoughts, viewpoints and ideas
there are important issues of mutual interest and relevance between all support groups on which clear thinking and good sense demands that we are aligned, and on which we work together.
Mission and Purpose of Support groups
France: Association Strumpell Lorrain (1992) website Presentation
the group is 23 years old and has 600 families, which represents about 25% of the projected HSP population in France
raise about ?25,000 annually
give around ?20,000 annually to HSP research, mainly genetics and physiopathology studies
co-founder and member of the French Rare Diseases Alliance
co-founder & member of a federation linking associations of Friedrich and Cerebellar Syndrom towards common scientific as well as medical & paramedical committees, and 2 supports of quality of living, e.g. psychological and administrative issues.
promotor for attendance of ASL-HSP France member to the DNA school at Genethon.
Denmark: Foreningen for ATAKSI / HSP (2004) website Presentation
the group is about 10 years old
the original goal was to fund research, but have not done so to this point
not just HSP; the formal group includes Ataxia (except Friedreich's Ataxia)
Have 200 members including about 80 with HSP. The projection is that there are about 400 with HSP in Denmark, so about 20% are members
Spain: Asociación Española de Paraparesia Espástica Familiar (2001) website
the group began with about 20 families with HSP 14 years ago
now about 230 families
part of a bigger neuromuscular organisation in Spain, ASM, with about 4000 people in Spain affected overall
have produced a good manual on HSP that has been sent to all medical centres in Spain
Dr Susi Sobrido has been an adviser to the group for a long time
support Latin American countries, as they do not have their own support groups
see two problems.1. Money/funding 2. 50 genes, so a lot of people said to have HSP are not a good diagnostic fit
trying to create reference centres for HSP
?26,000 per year is spent on keeping a centre in Madrid with a social worker where the focus is on social and mental health support work
there is a program to support children and adolescents working with the National organisation to try new treatments; there are 10 kids in this program at present
there is a national gene study with public subsidies for people who need it to be tested
a training course for 2-4 physiotherapists has been prepared and a manual will be one outcome of this program
Italy: Associazione Italiana Vivere la Paraparesi Spastica Onlus (2010) website Presentation ppt doc
hold a Congress on HSP awareness every two years; Congress in Milan and Rome with the theme of what is HSP and promotion of wellness/quality of life
Psychological project : Quality of life and promotion of wellness in people with HSP
began with 10 families with SPG11
Nulvi in Sardinia has a special situation where there is a high prevalence of HSP through inbreeding; for example in one HSP family, 75/200 members are affected
180 families have now joined (how many individuals with HSP?)
annual budget of ?10.000
estimate of 2,000 people in Italy with HSP
there are two rare disease groups in Italy - Uniamo and MIR; they are associated with MIR
Trying to get started a project with Yerko Ivanovic Barbeito, an acupuncturist with a special interest in HSP and ataxia. Meeting participants spoke of the benefits of his acupuncture, which he recommends before physiotherapy sessions. Continuous treatment is needed with acupuncture/physiotherapy recommended every two weeks to help with quality of life.
the website is www.vipsonlus.it
Netherlands: Spierziekten Nederland (1967) website Presentation ppt doc
HSP is part of an umbrella group representing 100 diseases that is run by members and was started in 1967
it is a very big organisation with a national headquarters and 275 executives, who are all volunteers; there are also regional groups
there are 320 HSP members, with an estimated 1700 with HSP in Holland (so about 20% of the population are members)
there are plans for a best practice roadmap manual for management and treatment of HSP
an e-learning program is available for when diagnosed, especially with respect to social services, issues relating to work etc; there are six modules and it is specific to Holland
Switzerland: Informal group (2007) website Presentation
the group is only for German-speaking Swiss; French-speaking Swiss go to the ASL and Italian speaking Swiss to the Italian group
the group is informal, not being an association or foundation
there is a geographic cluster of HSP in the centre of the country
there are 42 members from 30 families
UK: The Hereditary Spastic Paraplegia Support Group (1990) website Presentation
the UK group was founded 25 years ago
the primary mission is to support our members and that has not changed
recently as surplus funds have accrued, there has been some funding of research
there are 350 members with HSP whose information is contained in a good database that includes some medical/genetic information volunteered by members
USA: Spastic Paraplegia Foundation (2002) website Presentation
SP stands for spastic paraplegias with coverage of both HSP and PLS (Primary Lateral Sclerosis)
there are 12,000 members including a mix of people with HSP, donors, supporters etc
this last year $600,000 went to fund research, with $800,000 the previous year
there is a 12 person international Scientific Advisory Board to review applications for funding and make recommendations to the SPF Board, who make the final decisions
a promising program, CReATe, has been initiated at the University of Miami including Stephan Züchner and his colleagues in the amount of $1.2 million per year for five years to investigate the connections between ALS, CMT, HSP and about three other conditions
Australia: HSP Research Foundation (2005) website Presentation
called a Foundation, but legally a charitable association like many other support groups
all-volunteer, e-based virtual organisation
dual focus and function. facilitating and funding research; and information, education and support for the HSP community
over 600 members with around half estimated to have HSP
raise around $80,000 annually (no membership fees), >95% of which goes directly to fund HSP research
vision is to have effective treatments widely-available, affordable and used by people with HSP everywhere
values include fairness, inclusion, collaboration, geography doesn't matter, professional, competent, businesslike
core competencies - effective organisation and communication; strategic appreciation and strategy development; collaboration and partnership
Day 2 - Tuesday, 2 June 2015
Establishing effective treatments - patient registries and clinical trials.
Dr Rebecca Schüle, University of Tübingen, University of Miami Presentation
Rebecca and her colleague, Prof. Ludger Schöls, hold an HSP clinic at the University in Germany two days/week and see 8 - 10 patients/week, with a waiting list of 2 to 6 weeks.
The work Rebecca is doing at Miami is mainly genetic, with some cell and animal models being used to investigate the association of different genes with HSP pathogenesis. The overall aim of the work is translational bridging between research and clinical therapies and treatments. The University in Germany is dedicated to translational research and works closely with the Hertie Institute where the focus is on basic brain research.
The following notes are associated with the presentation:
Clinical trial process
The clinical trial process for orphan drugs has recently been examined to make it more practical and feasible. It is regulated by special acts in the US (FDA) and Europe (EMA). Study designs are changing to cater for orphan drug/rare disease trials.
If biomarkers are used for outcome measurement in clinical trials on HSP, they may need to be longitudinal e.g. Matching cell impairment status with the level of symptoms. A biomarker will be used for the upcoming SPG5 research that will be both cross-sectional (a number of measurements on different participants simultaneously) and longitudinal (measurements on the same participant over time). It is of the order of 2-4 years to obtain useful results from longitudinal data on HSP.
Rebecca explained that trials can be categorised in three ways. Those that target:
symptom level e.g. Cholesterol impairment in SPG5
gene level e.g. Ataluren for nonsense mutations, and
pathway level e.g. Trialling a treatment that would be effective on all forms of HSP associated with axon degeneration.
In discussing the 'Valley of Death' for drug development, Rebecca commented that a lot of money is spent either side of the valley. on discovery in the early stages of research, often with government funding, and commonly pharmaceutical industry funding on the other end that is spent on commercialising treatments. Successful drug development is that which adequately manages the five areas of risk. scientific, funding, regulatory, intellectual property and market risk. Key stakeholder groups include scientists, regulators, clinicians, industry, patients and funding providers/sources.
Developing a global patient registry
The HSP community globally owes much to the seminal work of neurologist Anita Harding whose paper published in 1983 brought the condition back to the attention of neurology professionals.
There are several significant challenges in establishing a global HSP patient registry:
establishing a multidisciplinary organisation with the right mix of people and skills to develop and implement a plan; discipline-based working groups such as clinical standards, imaging, biobank/biomarkers, IT and regulation are all required
harmonising existing databases - technical and logistical considerations such as nomenclature, ontology, workable unique identifier system (UID), and IT/software all need to be aligned
assimilating different approaches and clinical standards between clinicians whose training may be significantly different
ownership/sharing of databases, privacy and confidentiality, restrictions on access, intellectual property, ownership of results and ethical considerations - all need to be skilfully negotiated with consultation, trust, collaboration and the valuing of sharing required to create the potential for success.
Role for Support Groups
There is a place for patient-entered data, especially in attracting motivated potential candidates for trials. The purpose of a patient-created registry is primarily to attract large numbers and can provide, as a minimum, contact information on individuals as well as basic permissions from them for use of the data provided. It could be that the one interface is used by all support groups globally through their separate websites, but with their own "shopfronts" and dominant language, so that it feels familiar to each community accessing it. There needs to be a joint project to develop a universal interface that will be at the heart of the global system. Possibly as a separate project, there needs to be an exploration of what it would take to harmonise the patient-entered database with the professional registry, and this would include, amongst other aspects, the need for verification and validation, and in many cases clinical/genetic data collection.
Support groups also have a role to play in attracting and consolidating joint funding to undertake the above initiatives.
Another appropriate role is the development of a professional interface. web presence and publicity. that makes the SPs attractive as a partner for clinicians, researchers, regulators and the pharmaceutical industry. As mentioned earlier, 'Treat NMD' would be a good benchmark for this undertaking.
People with SP conditions are often dissatisfied with the outcomes of their involvement in research. commonly complaining that they never get the results of their test and never hear anything about the results of the research. There is a potential role here for support groups to provide and be the interface with members of their community regarding the use of samples taken from them for research and updates/progress reports on the research in which they have been involved in the sampling/data collection phase. There is also a role for support groups in educating their communities about the nature of research studies and the separation of personal results from research data due to ethical considerations relating to privacy and anonymity. This role could extend to information about how personal results can be obtained from samples provided for research. These are all legitimate needs and concerns, but the use of researchers' time and resources on such communications with study volunteers cannot be justified.
Frank McKeown raised the issue of POs (patient organisations). The word "patient" reflects a traditional, legacy medical/research approach and perspective. It is the terminology that medical professionals use for support groups. It is what they call us, but there is no compulsion that this is what we should call ourselves, just the same as we need not call ourselves "sufferers". Support group is a good descriptor for our role, even as it is changing, because while the support might take a different form, it is support nonetheless. Instead of 'sufferers' or HSP 'patients', feel free to adopt the coined term 'HSPer' that is used in Australia, or create one of your own that fits your culture and context. We need to rename ourselves first, then try to influence other stakeholders such as researchers, clinicians, the pharmaceutical industry and rare disease groups such as Eurordis to get used to referring to us as 'support groups'. When it comes to clinical trials, patient registry is appropriate as it is an accurate descriptor in that context.
The group thanked Dr Schüle enthusiastically not just for the excellent and highly relevant presentation, but also for choosing to make the trip from the US specifically for this session.
Public Awareness: Potato Pants
Lori Renna Linton, High School Teacher, HSPer, Klosterneuburg, Austria Link to video
As largely unknown rare conditions, name recognition, public awareness and political leverage of the SPs is low everywhere. An initiative in Austria in 2014, 'Potato Pants', may well represent an excellent unifying narrative for SP groups and people with SPs everywhere.
The session opened with a video https://www.youtube.com/watch?v=56XdjtrpZlo explaining where the idea and the term "potato pants" originated. Lori then introduced herself and Constanze and gave some background about the frustration they both felt seeing the endless stream of celebrities tipping ice buckets over their heads to publicise ALS. What could they do to get HSP in the spotlight?
The meeting then watched the 2nd video https://www.youtube.com/watch?v=K80Q8BnU-V0 that recorded the experience of kids in the high school having fun racing each other around the school gymnasium while wearing 'potato pants'. It proved to be a powerful experience for all involved, a significant fundraiser for HSP research, and provided a visceral appreciation for the able-bodied students who gained some insight into what walking might be like for those with HSP.
There was a brief question and answer session with Lori, following which discussions were had about the potential for the concept or central idea to become the universal symbol for HSP globally. People also came up with ideas for publicising HSP using potato pants in various ways. A volunteer working group was formed to take this initiative forward.
Moving Forward Together
Setting priorities. what does each group see as the highest priorities of mutual interest.
Collaboration. how best to work together.
Next Steps. how and where to move forward from this point.
Setting Priorities- the leader from each group nominated what they believe to be the most important mutual priorities emerging from the meeting. The most commonly mentioned priorities are:
supporting the development the global HSP registry with a view to successfully staging phase III clinical trials in the future
developing a common symbol/logo for HSP globally, that will signify alignment and collaboration between national support groups, and help present a unified face to external key stakeholders such as clinicians, researchers, regulators, relevant government and non-government bodies, the pharmaceutical industry, the global HSP community, and to the public at large
investigating taking on a new and different role in attracting funding.
Collaboration- as this gathering of global leaders is new, a discussion was had about how best to collaborate, given that in many cases, working on joint projects will be in different locations and widely differing time zones. The special challenges that this presents need to be addressed. Ideas that emerged during the session were documented for further development.
Next Steps - how to move forward from here? The group came up with ideas and recommendations for how and where to start moving forward from this meeting. These included having and sharing a record of the meeting; access to the presentations made at the meeting; early activation of the working group for the universal symbol; and sharing/deliberating on the ideas and outcomes of the meeting with the respective committees and boards of the individual national support groups.
Communiqués
What messages would we like to send to ourselves as leaders of support groups after these two days of deliberations?
The sentiments expressed by people were of encouragement, optimism and challenge. Resolve to collaborate and be inclusive, not just between support groups, but to also foster collaboration and inclusion with other stakeholder groups such as clinicians and researchers was also generally shared.
What messages do we want to send to our respective SP communities?
our shared commitment to collaboration
the rationale/reason/need for collaboration (if we remain national organisations without collaboration, there will never be enough people for proper clinical trials, and without that, no effective treatments can be developed)
"it is the beginning of a very exciting future"
we are entering a new era; we must collaborate globally to get what we all want.
The meeting closed at 4 PM.