SPF Annual Conference
Annual Conference Brings Members Together
The annual conference is an essential part of what makes us a part of the Spastic Paraplegia Foundation.
The SP-Foundation coordinates the world's largest gathering of those with HSP and PLS at the Annual SPF Conference.  For two and one-half days, attendees meet to learn from world-leading researchers and clinicians, network, reunite with old friends, and make new ones.  Many people, from patients to caregivers to medical professionals, travel from all over the world to attend the conference.  Many members have reported that the conference is like a reunion, where they get to meet friends from all over the world that look and walk just like them. The location moves each year, providing a broader and easier opportunity for people to attend and travel across America.  Accessibility accommodations are kept in mind when planning and choosing conference locations.  Attendees have the opportunity to learn about spastic paraplegia relating to research, genetics, physical therapy, living with HSP and PLS, coping, caregiving, and more.
Sessions at the conference may include selecting researchers who receive scientific and medical research grants from the SP-Foundation. Researchers and doctors will share information about their work, updates on gene therapy, and CRISPR genome editing.  We usually include breakout sessions for just men, just women, just children, and caregivers in which each group can talk with each other about daily personal living issues.  If you have a concern or a question that you would like to submit ahead of time, please let us know, and we will address it during the breakout session. Another breakout session will allow states to gather and meet regionally, and you'll have an opportunity to meet with SPF ambassadors.
There are informative sessions on clinical research and related disorders for therapeutic development, mechanistic route to therapy, human genetics and neurology.  Dr. John Fink, MD, who serves as the SP-Foundation's scientific medical advisor and is the Director of the Neurogenetic Disorders Clinic at the University of Michigan and Physician-Scientist at the Geriatric Research Education and Clinical Center usually presents and addresses questions in great detail. Other speakers may include Dr. Hiroshi Mitsumoto, MD, DSc, Dr. Stephan Züchner, MD, Ph.D., Dr Hande Ozdinler, PhD., Dr. Peter Baas, PhD., etc. 
---
---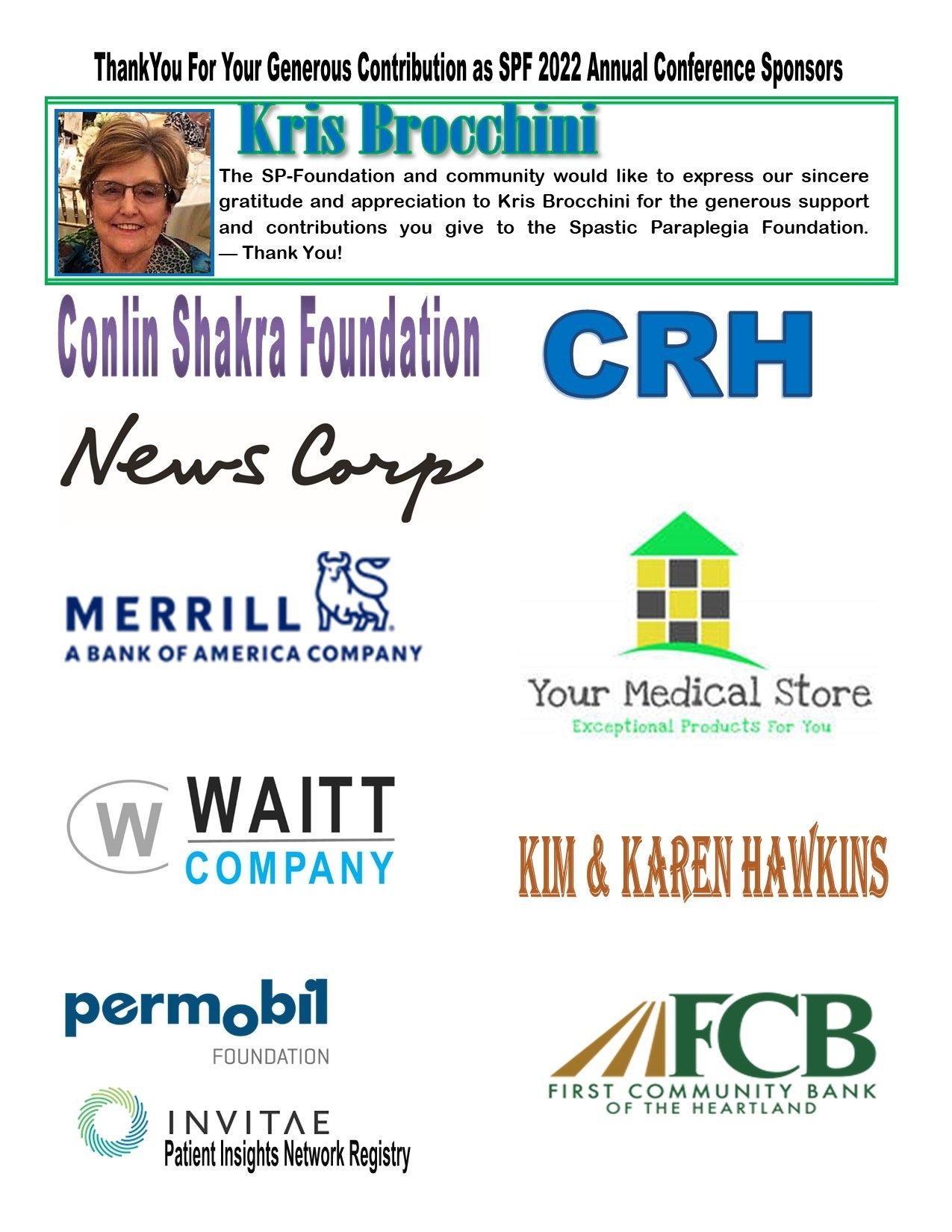 ---
2022
Cowboy Up, Volunteer, and Find Your Song in Nashville, Tennessee is the theme for the 19th Annual Spastic Paraplegia Foundation 2022 HSP&PLS Conference on July 22-24, 2022. Registration is open by visiting SP-Foundation.org. Join us to meet new friends, learn about the latest in scientific medical research and share strategies for living with Hereditary Spastic Paraplegia and Primary Lateral Sclerosis.
Please consider registering for the conference early for the best discounts at SP-Foundation.org.  The hotel is accepting reservations by calling the Hilton Nashville Airport, 2200 Elm Hill Pike, Nashville, TN 37214, (615) 883-9770. Free parking and WIFI with complimentary airport transportation. Mention "SPF" for a discounted room rate of $159.
Cowboy Up, Volunteer, and Find you Song, by helping us Find a Cure, Raise Funds, and Participate in Research.  We are looking forward to seeing you in Nashville!
See Ya Soon,
Norma, Conference Coordinator