Kentucky & Tennessee Meet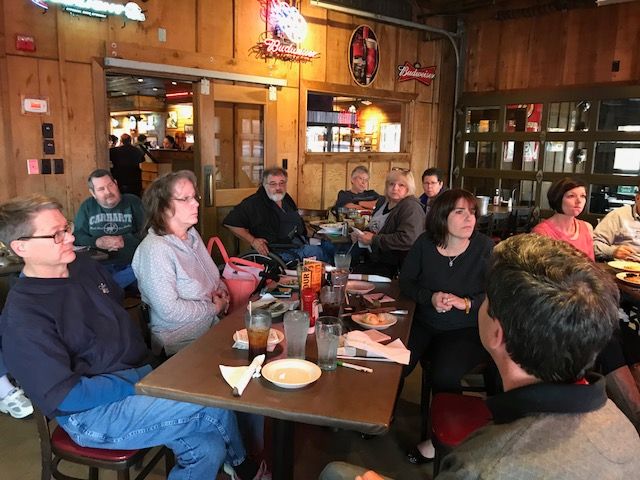 Twenty people from TN and KY joined us to socialize and to learn about several topics dealing with HSP, PLS and the SPF.
The first topic that was covered was the Biowave. It is a medical device similar to a tens unit. Is provides electrical stimulation to the skin to help reduce pain. One device will be available in some orthopedic/pain physician offices, where you would go in for treatment. There is another unit that can be purchased and used at home. It costs about $900 for device and then electrodes that are used are purchased as needed. Some insurance companies cover the price. If interested, please Google Biowave and then let me know if you have more questions. Their web page is currently down. Your physician would have to write a prescription in order to obtain.
We talked briefly about a cough medicine called Noscapine. Some folks with HSP are using over seas as a supplement. I could not find any clinical data about it. If you are on Facebook, go to the Spastic Paraplegia Foundation page and look at a post from Lingarajne Anand on March 8th. It contains information. Not approved in US. You might be able to order on your own. Please be careful with anything you take as a supplement. Would be best to let your physician know what you are doing to make sure it will not affect anything else you are taking.
Two oncology drugs are involved in research studies in Australia. If either proceed to further studies, human trials will likely start in the US. Not sure when that might be. Feel free to check SPF Facebook and the SPF webpage for updates. Look towards bottom at News & Alerts. Info is posted there regularly.
An American physician has done some work injecting Mesenchymal stem cells into patients with HSP. This is currently not approved in the US so it is done out of the country. Not sure how accurate this data is. Attached is a medical article about scientists using these stem cells on a patient with a crushed back fracture. Hopefully more data will be available soon for those interested.
We shared information about some stretching exercises that may be of benefit with those with HSP and PLS. Please check with your Physical Therapist or doctor before adding any of these to your activities.
Please see attached.
Lots of resources on the Spastic Paraplegia Foundation, Christopher Reeve, Neurology Now web pages. You can go to Christopherreeve.org and Neurologynow.com and be set up to receive news letters and other information.
For those that could not make it, please let me know if you have any questions.
Jim Sheorn
jimsheorn@gmail.com
(615) 479-7369