SPF Kentucky Golf Tournament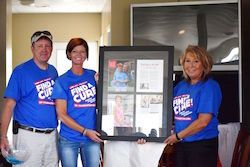 On Saturday, September 19, 2015, SPF Kentucky hosted a golf tournament to raise funds for research. The event was held at Drake Creek Golf Course in Ledbetter, Kentucky. Over forty sponsors helped bring fifty-two golfers together for a great day of golf raising over $8,500 for SPF. Many of the sponsors and golfers have already committed to participate in another golf event in 2016.
The event was coordinated by SPF board member Greg Pruitt and his wife, Norma; SPF State Ambassador Kari Averill; and Chad Pruitt.
Should you have any questions, please do not hesitate to contact us.
​
​S​incerely,
Greg Pruitt | (270) 254-0506
SPF Kentucky | PO Box 78 | Clinton KY 42031
HSPKentucky@gmail.com
Facebook: SPF Kentucky USA #hspandpls
Twitter: HSPKentucky